Mexico
Mexico is a country bordered by the United States to the north and to Guatemala and Belize to the south-east. It has long coasts along both the Pacific Ocean and the Atlantic, including the Caribbean Sea and the Gulf of Mexico.
Officially named the United Mexican States (Spanish: Estados Unidos Mexicanos), this country is a federation consisting of 31 states + Mexico City.
Out of the 141 UNESCO World Heritage Sites in Latin America and the Caribbean, 35 are found in Mexico, which is the highest number for any country in the region. Out of these 35 sites, 27 are cultural sites, six are natural sites, and two are mixed.
Mexico is also famous for its natural biodiversity and is home to a wide range of different habitats. The climate varies considerably throughout the country. Very generally speaking, the north is mountainous and cooler, with notable arid areas at lower elevations. From around Tampico, the climate becomes more warm and humid.
In 2018, Mexico was the 6th most visited country in the world, with 39 million international arrivals.

Short facts about Mexico
Currency: The Mexican peso (MNX)
Driving side: The right-hand side
Calling code: +52
Internet TLD: .mx
ISO 3166 code: MX
Capital
Mexico City is the capital and most populous city of Mexico.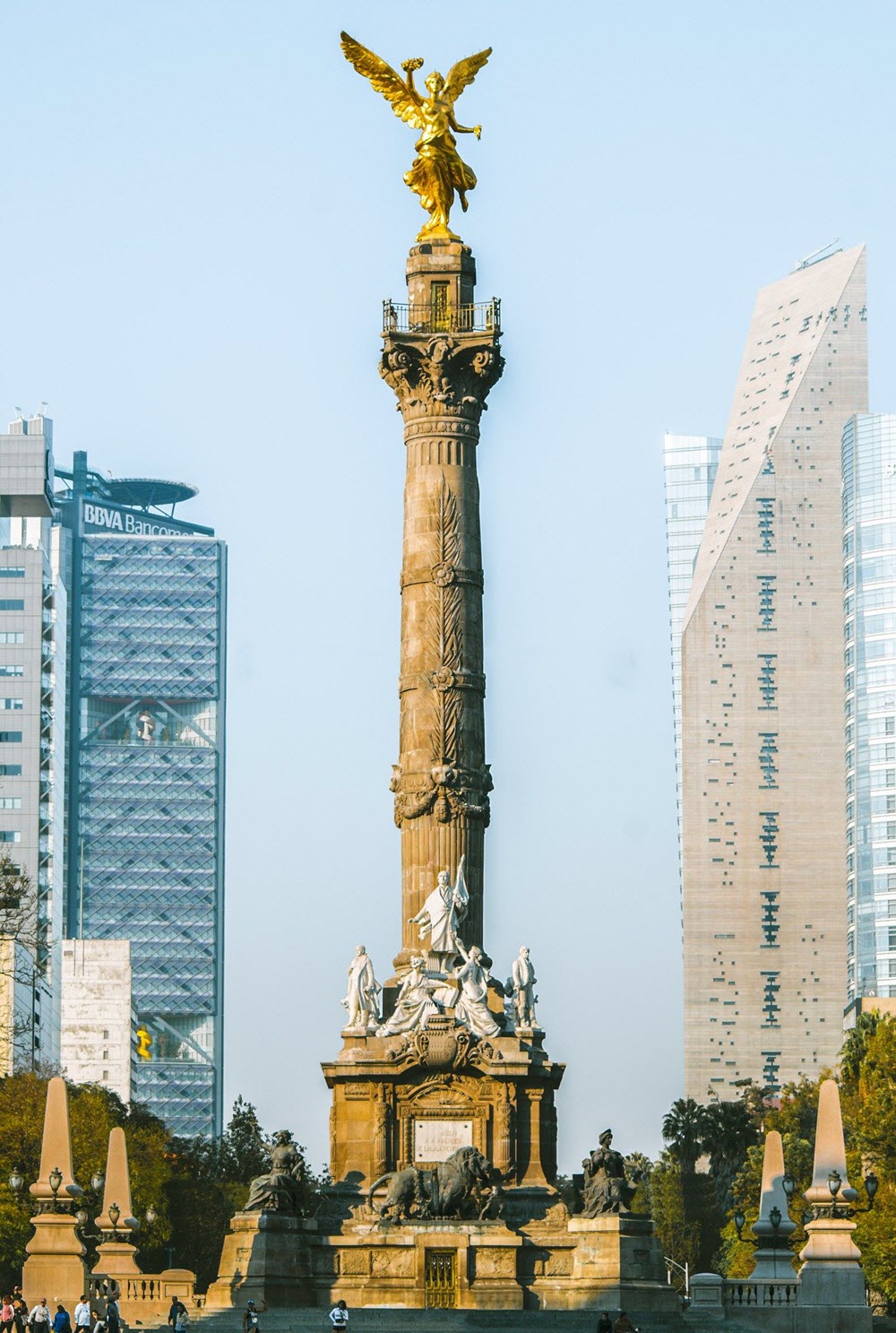 Coordinates: 19°26′N 99°08′W
Languages
The de facto official language in Mexico is Spanish.
Spanish + 68 Native American languages are recognized regional languages.
---

---
Religion
Data from 2010 show that over 80% of the population identified as Catholics.
Minority religions: 6.6% Protestantism, 1.4% Jehovah's Witnesses, 1.9% any other religion
4,7% of respondents identified as irreligious
Area
The total area of Mexico is 1,972,550 km2 (761,610 sq mi).
Population
For 2020, the estimated population is almost 129 million people.
Time zone
Mexico is a large country with several time zones, from UTC -8 to UTC -5.
| | | |
| --- | --- | --- |
| Mexican time zone | Winter | Summer (DST) |
| Zona Sureste | UTC−05:00 | UTC−05:00 |
| Zona Centro | UTC−06:00 | UTC−05:00 |
| Zona Pacífico | UTC−07:00 | UTC−06:00 |
| Zona Pacífico | UTC−07:00 | UTC−07:00 |
| Zona Noroeste | UTC−08:00 | UTC−07:00 |
Mexico has four main time zones. Most of the country observes Daylight Saving Time (DST), but Zona Sureste and parts of Zona Pacifico do not.
For economic reasons, some metropolitan areas close to the United States border follow the U.S. Daylight Saving Time schedule instead of the Mexican one.
Holidays
Not all of the holidays below are bank holidays.
1 Jan: New Years Day
6 Jan: Día de Los Reyes
2 Feb: The Candelaria Virgin Day. It is celebrated in many places around the country, but is not an official holiday.
5 Feb: Day of the Mexican Constitution
24 Feb: Day of the Mexican Flag (not an official holiday)
Easter is widely celebrated in Mexico. Mexico follows the Catholic tradition where Easter Sunday is the first Sunday after the first full moon after the spring equinox. This means that it can fall between March 22 and April 25, depending on the year.
First Sunday in March: Day of the Family
21 March: Birth of Benito Juárez (in 1806)
1 May: Worker´s Day
5 May: Battle of Puebla
10 May: Mother´s Day
1 September: The Mexican President addresses the Nation
15 September: Grito de Dolores
16 September: Independence Day
12 October: Descubrimiento de America (not an official holiday)
2 November: Day of the Dead
20 November: Revolution of 1910
12 December: Virgin Mary of Guadalupe Day
24 December: Christmas Eve
25 December: Christmas Day
31 December: New Year´s Eve
Casino Gambling
Casino gambling is legal in Mexico.  Gambling is very popular and you will find a casino in many larger cities.  Most small cities feature a gambling hall with slot machines and sometimes a couple of table games.  Online casino gambling is legal in Mexico and very popular.  There are a number of different online casinos that welcome Mexican players.  Mexico is one of the most important gambling markets in Latin America. Oher important casino markets include Argentina and Brasil.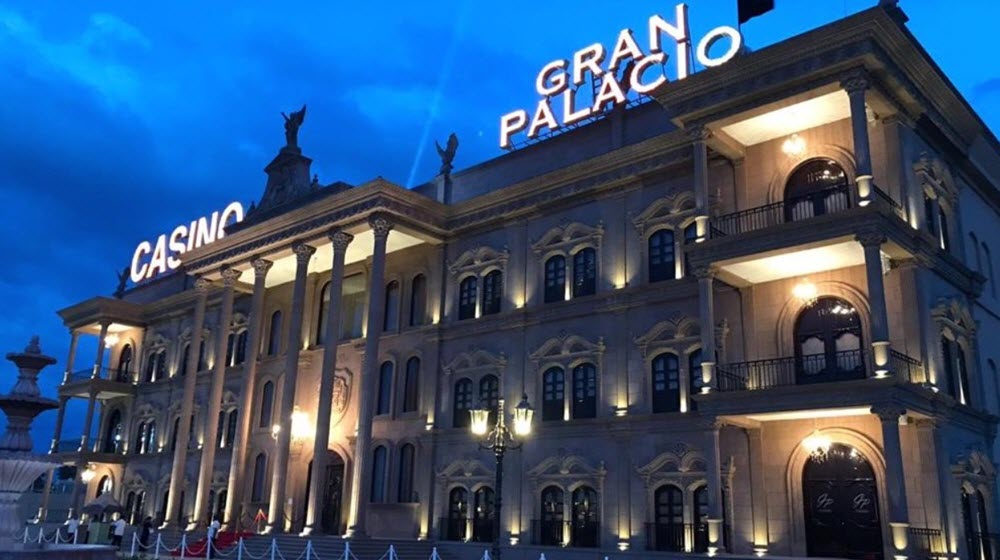 Finding a casino in Mexico is generally easy.  Just ask a taxi driver and he will be able to take you to the local casino.  Please remember that crime is high in large parts of Mexico.  It can, therefore, be dangerous to visit a casino. It is not unusual for robbers to choose victims coming from a casino.  Playing online is a safer option. Playing casino online will also provide you with better odds than the regular casinos that often features rules that are heavily in favour of the casino.
Finding an online casino is easy. There are hundreds to choose from.  I recommend that you take some time and research different casinos before you choose to register in one.  Casino.zone is a good website that can help you find a good casino that features all the games and functions that you want.  Casino.zone also makes it easy to find the latest casino bonuses and promotions.  There are many other online casino review websites that you can use instead if you dislike the one I recommended.
Make sure that you learn how online casinos,  casino bonuses and the different games work before you register in an online casino.    It is important that you understand that casino gambling is entertainment,  not a way to make money. All games always favour the casino.  You will most likely lose money if you visit a casino.
Background
This region has been populated since at least 8,000 BCE and is one of the world´s six cradles of civilization. Several complex Mesoamerican civilizations have developed here, including the Maya and the Aztec civilizations.
The region was colonized by Spain in the 16th century and remained a Spanish colony until achieving independence in the 19th century.
During the colonial epoch, the local Native American peoples were harshly exploited by the colonial powers, especially in the mining industry, as the extraction of precious metals became an important source of wealth for Spain. Diseases from the Old World also served to shrink the local populations, as many died in illnesses such as smallpox and measels.
Mexico ceased to be a Spanish colony in 1821, as a result of the Mexican War of Independence.
Mexico lost considerably amounts of land in the north of the country through the Texas Revolution in 1835-1836 and the Mexican-American War 1846-1848.